Vignesh (founder of The Local Brief) had lunch at the 'Whitefield Social' restaurant on Sunday with his wife. Here's his review.
No waiting: A place usually expected to have a queue longer than our yesteryear famous milk booths, welcomed us without any waiting time.
First, the drinks: We ordered Dewar's Penicillin and South Pacific Rim.
Dewar's Penicillin is a cocktail made of Dewar's White Label, Ginger, Honey and Lime. The mixture of sourness and sweetness felt heavenly!
South Pacific Rim is a cocktail made of Bacardi Carta blanca, Captain Morgan, Pineapple juice, Orange juice and Grenadine. The taste was akin to a sweet fruity punch. Sugar rush guaranteed!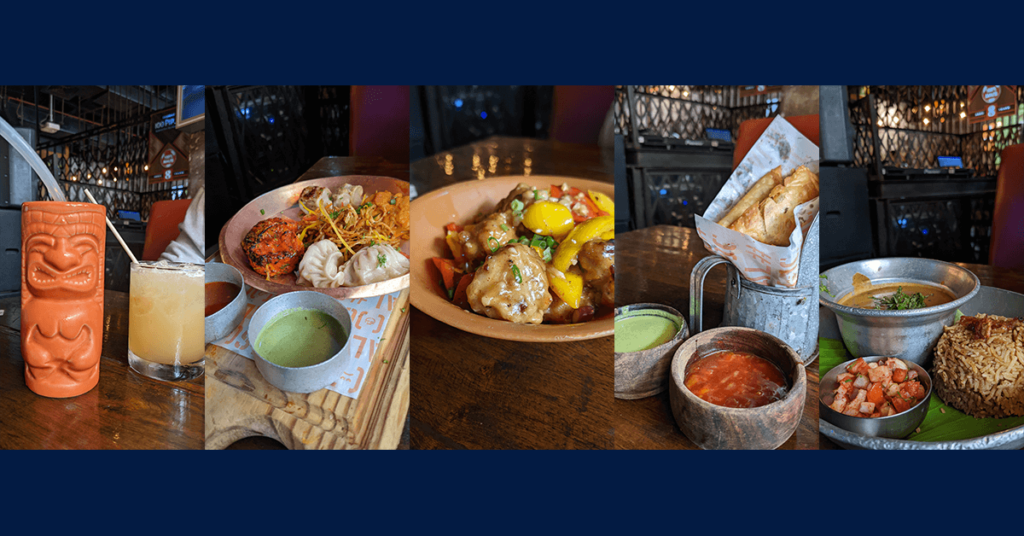 The starters: It was time for Momopalooza (a spread of different kinds of momos), Butter Garlic Pepper Chicken and Awesomosas (sheet samosas stuffed with pizza sauce and mushrooms).
Among the different varieties of momos, tandoori and hell momos tasted the best.
We thought the Butter Garlic Pepper Chicken would be spicy assuming the usage of black pepper. Instead, we got a slightly bland chicken with bell peppers. A waiter did tell us that we were not the first ones to get confused about the peppers!
The samosas were crispy and piping hot with dripping innards. They vanished into our stomachs rather quickly!
Main course: We went for the quirkily named Nina Aunty's Mutton Dhansak with Brown Rice. Well, Aunty got the mutton gravy right and the rice too, but some more spice would have elevated the flavours a bit more.
Service: We ordered using our mobile phones by scanning a QR code. The first drinks were served within 10 minutes of placing the order. The food followed soon after.
Overall, the experience was good. The drinks and the samosas were the standouts.
How would you rate our menu choices? If you were to try one of the above, what would interest you? Let us know by replying to this email!