Good morning, Bengaluru!
⛈️ Today's weather: Nothing much has changed since yesterday. High chance of rain with thunderstorms. Avoid going outdoors and stay safe!
⚠️ Alert: Due to the rains, today will be a holiday for schools and colleges in the city.
🧐 Did you know? Malleswaram (officially Malleshwara) gets its name from the Kadu Malleshwara Temple and was founded by HV Nanjundaiah, who was the Diwan of Mysore and the first Vice-Chancellor of Mysore University.
---
🏆 Guinness record for clay seed Ganesha campaign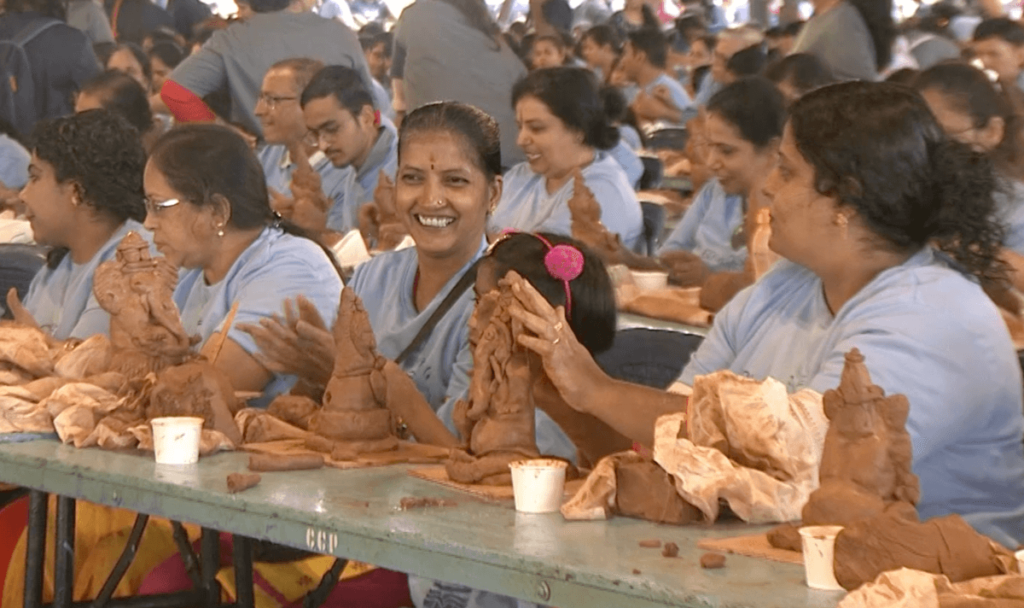 Organised by Bengaluru Ganesha Utsava and Sree Vidyaranya Yuvaka Sangha, in association with the Karnataka State Pollution Control Board and Rotary Bangalore Parisara, the clay seed Ganesha campaign has set a new Guinness World Record.
Story so far: The campaign has claimed to break its own record for 'the most number of people sculpting with modelling clay simultaneously' at National College Grounds on Sunday. While the initial goal was set at creating 10,000 Ganesha idols, only 3,308 idols could be created. But this still made it to the records book.
3,000 people participated in the campaign, belonging to different age groups and professions, coming together to sculpt their personal Ganesha idols.
Idols were embedded with seeds of flowering plants such as tulsi, sunflower, ashwagandha and others.
Environment-friendly: The clay idols are designed in such a way that they can be planted in a pot post the festival, which will eventually grow into plants. The campaign was set up not only to promote environment-friendly plants but also to provide a hands-on clay idol-making experience.
---
🐅 A Successful Call for Conservation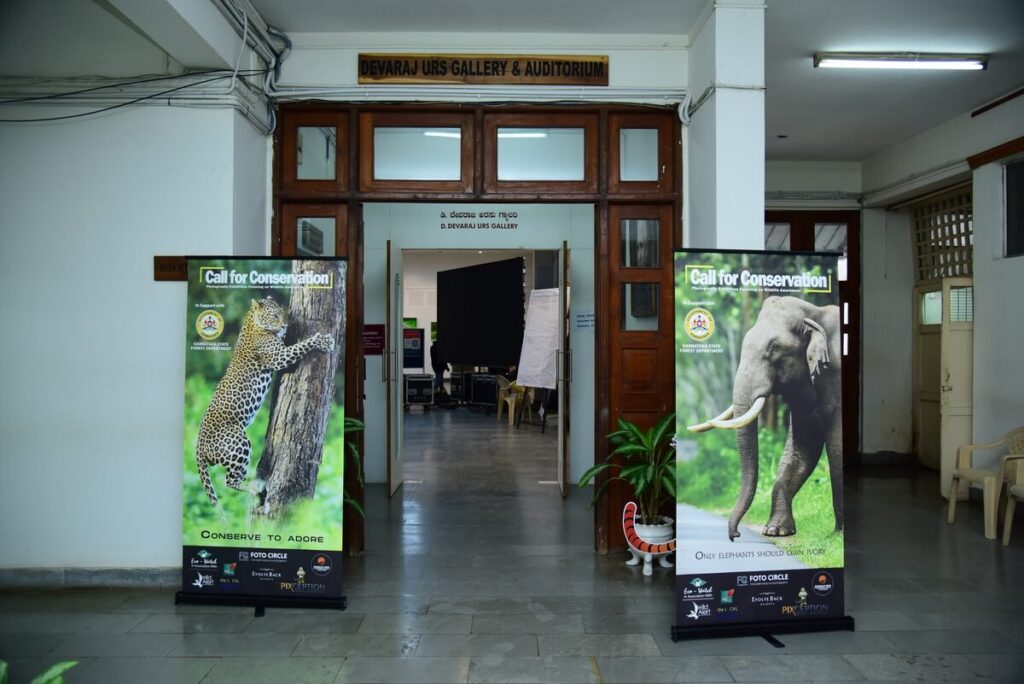 The 4-day Call for Conservation event held in Chitrakala Parishath came to a successful close on Sunday.
What was it: The event showcased photographs highlighting the efforts of front-line forest department staff and the rich biodiversity of Karnataka.
The highlights: Adorning the exhibition walls were the photographs taken by Pavan Joshi showcasing man-animal conflicts, the work of forest staff, and a multitude of wild animals including tigers, elephants, ravens and snakes.
Wildlife photographer Arvind Karthik also showcased some of his photographs capturing leopards and other wild animals in their habitats.
Conservation artist RA Sudha showcased a picture-perfect painting of the late tiger Masti, based on a photograph captured by Pavan Joshi.
A large photograph of an elephant captured the attention of the visitors.
Photographs for sale: Some of the photographs displayed during the exhibition are showcased here. If you are interested in purchasing the photographs, you can reach out to Pavan Joshi at +91-7760674721.
---
💰 Three startups win BITS Pilani event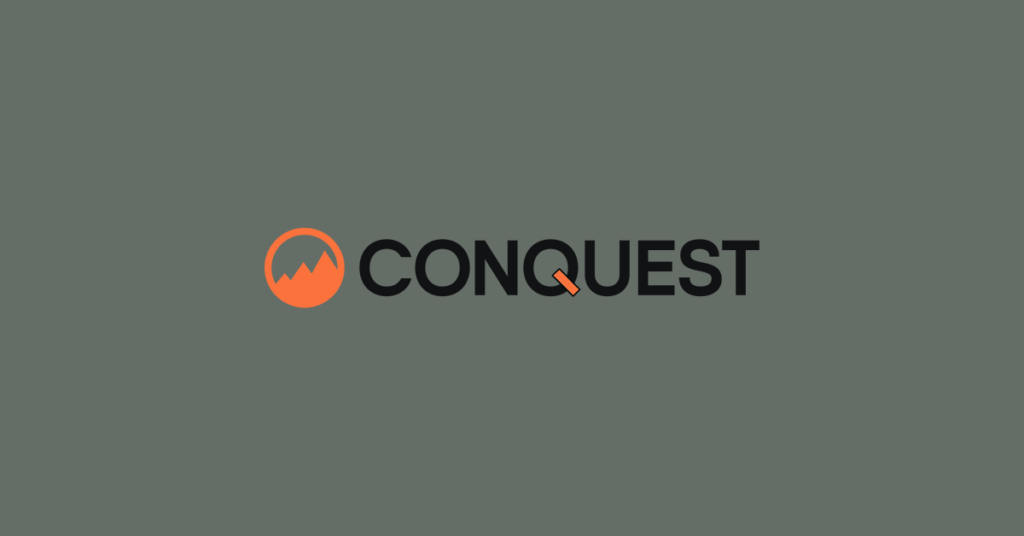 Three Bengaluru-based startups have won big at the BITS Pilani Conquest.
Story so far: Out of 1,500 applications, 15 were shortlisted, and four have won an equity-less grant of ₹30 lakh each. Of these, three startups are based in Bengaluru. The winners were decided based on three categories – Pan India, BITSian, and Web3.0.
Winners in Pan India category: Two startup companies from Bengaluru, Green Tiger Mobility and Daffodil Health, won in the Pan India category.
Green Tiger Mobility, a cleantech firm, is working on developing a hybrid vehicle that will allow you to switch between electric to internal combustion engines.
Daffodil Health, a healthcare startup, aims to give parent-mediated therapy to children experiencing developmental disorders such as autism, ADHD, dyslexia, and others.
Winner in Web 3.0 category: Bengaluru-based StreamMoney won in the Web 3.0 category.
StreamMoney is enabling Non-Fungible Token (NFT) owners to rent out or provide subscriptions of their NFTs through a utility protocol.
Conquest: Conquest is run by BITS Pilani's Centre for Entrepreneurial Leadership. It is the first-ever student-run startup accelerator, conducting events and programmes every year to aid startups with funding and mentors.
The 18th edition of this programme was held in Bengaluru on Sunday, displaying 15 startups to a panel consisting of investors and industry leaders.
---
💊 Free medicine kits for cancer patients
On the occasion of the 54th Founder's Day organized by Karnataka Cancer Society (KCS), free medicine kits have been distributed to cancer patients.
Story so far: Worth ₹5,000 each, cancer patients around the city have received free medical kits. Against this backdrop, Dr C Ramachandra, director of Kidwai Memorial Institute of Oncology, stated that poor lifestyle habits and consumption of alcohol, drugs, and tobacco are contributing to major health issues.
The KCS provides unbiased treatment to patients above and below the poverty line, whether it's surgery or chemotherapy.
The association has also taken up the initiative to provide medicines at a 40% discount.
Helpful schemes: Dr Ramachandra stated that schemes like Aarogya Karnataka and Ayushman Bharat have proved to be extremely helpful to all strata of society. He said that cervical cancer has been reduced due to increased awareness and early testing.
---
📊 Today's Poll
(Only subscribers can participate in the polls)
Are you a fan of football?
Yes, I am a fan of football.
No, I am not a fan of football.
---
❓ Today's Question
(Only subscribers can submit their answers)
What is your favourite Indian sweet?
Reply to this email with your answers.
---
🗞️ In other news…
---
🛋️ Local Lounge
Yesterday's Poll Results:
I would choose to live on the moon: 88.9% 🏆
I would choose to live on Mars: 11.1%
Answers to Yesterday's Question:
What's your best memory of attending a live music concert?
Sriranga: "Praveen Godkhindi's concert a couple of years ago. The man really knows how to catch hold of the attention of the people and is a maestro in Flute. I recommend all classical music lovers to check it out."
That's it for today. Have a great day!