Good morning, Chennai!
⛅ Today's weather: Mostly sunny with a few clouds hanging around.
🧐 Did you know? Pycrofts Road was named after Sir Thomas Pycroft, a British administrator and civil servant who served as a member of the Madras Legislative Council from 1862 to 1867.
---
🎥 VFX studio breaks records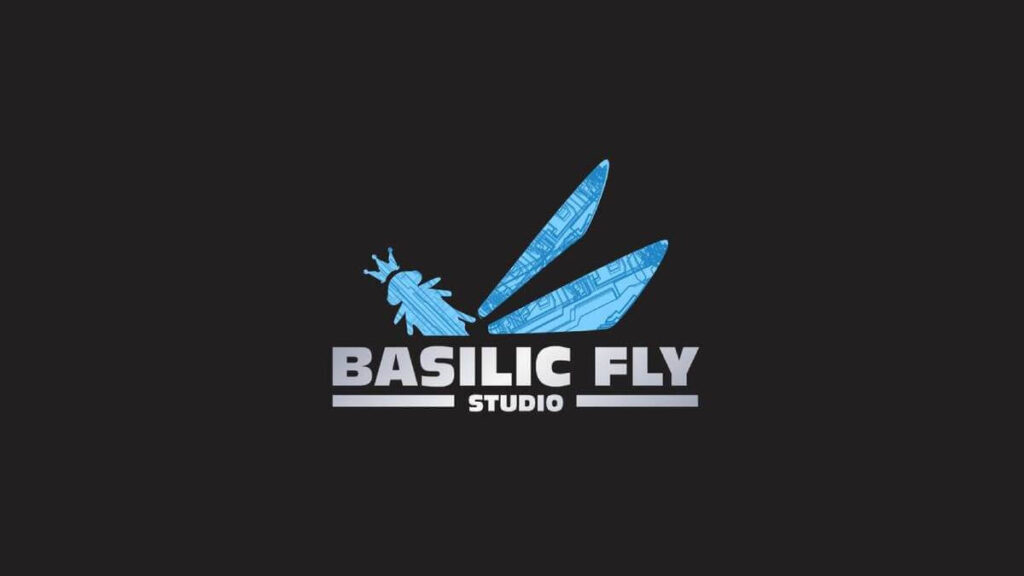 Basilic Fly Studio's IPO was subscribed 286 times, putting it into the Indian stock market's record books.
Who are they? Basilic Fly Studio may not be the most recognisable company name. However, if you've watched the latest Avatar or Avengers: Endgame, then you've seen their work. They've worked on over 10,000 projects across movies and OTT platforms with their 400-member strong studio at Porur. Wanting to expand, their IPO collected over ₹14,000 crore for a ₹66 crore issue.
The company was then listed on the NSE Emerging Exchange. The shares debuted at ₹271 against an issue price of ₹97. The company beat the listing record of Phantom VFX, another Chennai-based visual effects house.
The company has offices in Pune, London, and Vancouver. It offers end-to-end services from pre-production visual effects to final shots. The company has plans to open new studios in Salem and Hyderabad.
Journey to get here: Balakrishnan quit his 2D VFX Artist job in 2013 and, along with his wife, created a new studio. By 2020, the company had 200 artists. The initial shock of the pandemic meant movies weren't being made, but the resulting increase in OTT content has helped drive growth.
---
🚄 Connecting Chennai and Tirupati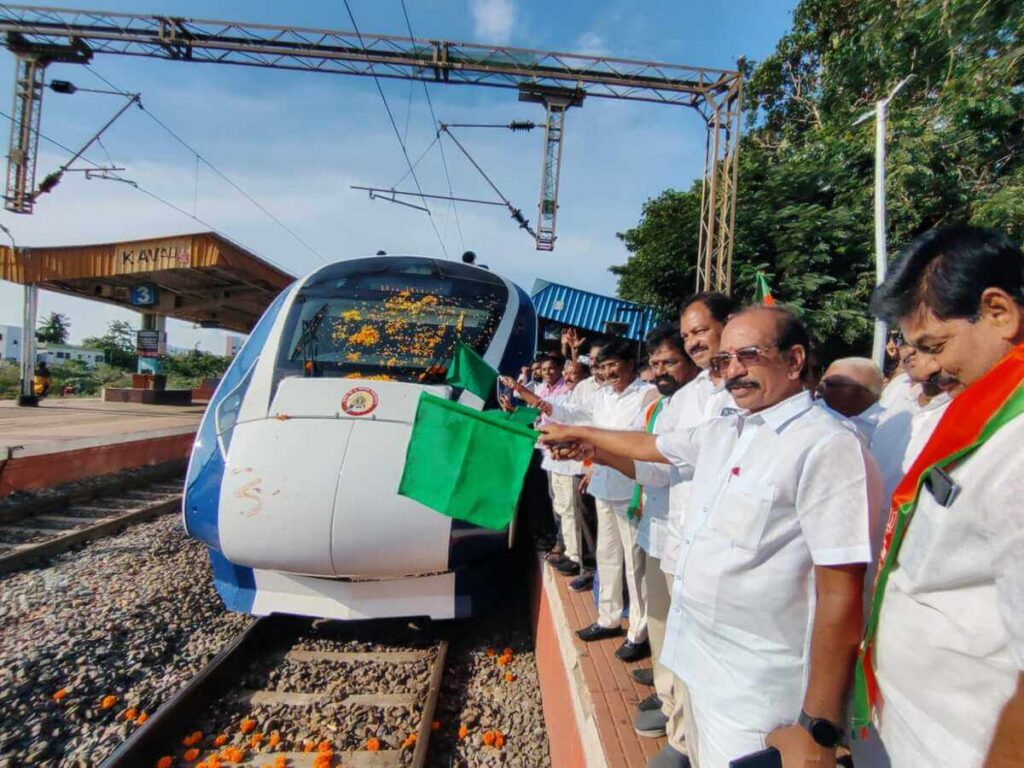 The newly launched Vande Bharat Express will enable travellers to reach Tirupati faster.
What's it about? With the new Vande Bharat Express from Chennai to Vijayawada, travellers can now reach Tirupati in about 95 minutes. The current Sapthagiri and Garudadri daily express trains on this section take two hours and forty minutes.
The newly inaugurated train covers 136.6 km between Chennai and Renigunta, 9 km from Tirupati, in an hour and 35 minutes. By road, the journey takes over three hours.
The Chennai-Vijaywada train will take a 514 km circuitous route through Nellore. End-to-end, the journey will take six hours and forty minutes.
Details: The new train will operate six days a week and depart from Chennai at 5:30 a.m. and arrive at Vijayawada at 12:10 p.m. The stops will be Renigunta, Nellore, Ongole, and Tenali.
---
🚇 Underground stations as barriers
13 underground metro stations will act as barriers to entry of water from the Adyar and Cooum rivers.
What's it about? 13 underground stations in the metro's second phase will be barriers to entry of water from the Adyar and Cooum rivers. Flood gates will be installed at the entry and exit points of these stations.
The stations include Moolakadai, Otteri, Ayanavaram, Kellys, and Sterline Road. In case of a tsunami, automatic floodgates will be installed at the Lighthouse metro on Marina Beach.
To prevent the entry of rainwater, the height of the floodgates has been increased to 1.5 metres in phase 2. This was done following a survey on flood levels in areas where underground stations are to come up.
How do they work? The gates will be custom-designed for the stations with European technology. Sensors will detect an increase in water levels. If they go beyond a certain mark, the gates will close automatically.
---
🏊🏽 Marina lifeguards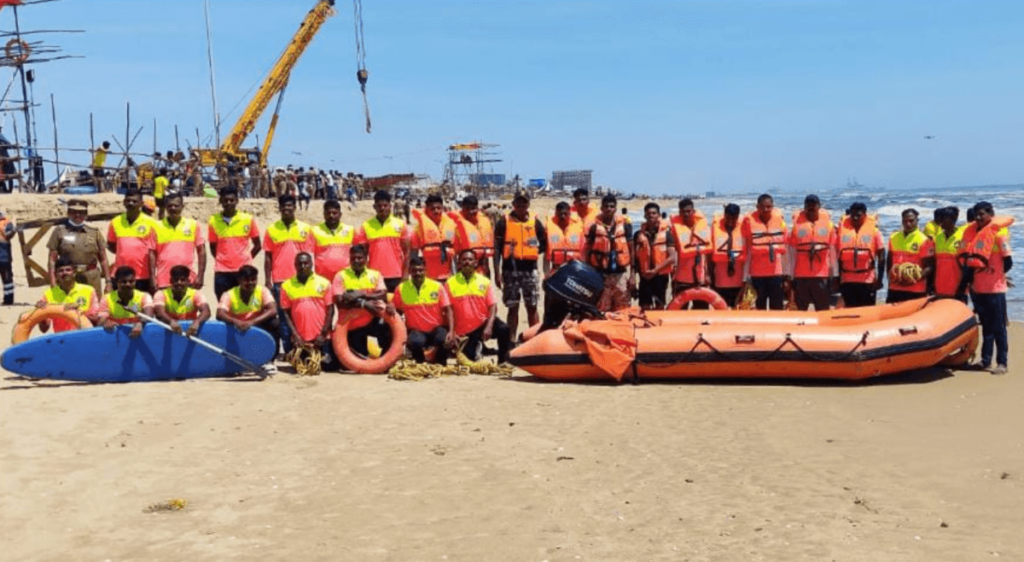 Since the introduction of drones, lifeguards at Marina Beach have saved dozens of lives.
What's it about? A typical day at the lifeguard unit, especially during weekends, is using drones to help save someone stranded or in danger of drowning. Drones have made it easier to save lives. Since its introduction last October, the unit has saved 97 people.
Coastal Security Group (CSG) members patrolled the coast and seas on jet skis as Ganesha idols were submerged. The team has 29 people from CSG, 100 from the Tamil Nadu Special Police, and 8 marine home guards made up of fishermen.
The drones are most useful on the weekends when there are more people at the beach. The usual process is the drone drops a lifebuoy and hovers over the concerned person until rescue personnel can reach them.
Additional equipment: Apart from drones and jet skis, the force has four-wheel drive vehicles to patrol and rescue tourists quickly.
---
📊 Today's Poll
(Only subscribers can participate in the polls)
Have you ever gone on a pilgrimage?
I have gone on a pilgrimage.
I haven't gone on a pilgrimage.
---
❓ Today's Question
(Only subscribers can submit their answers)
What's your favourite cultural event in the city?
Reply to this email with your answers.
---
🗞️ In other news…
---
🛋️ Local Lounge
Yesterday's Poll:
There is an existing/upcoming metro station at a walkable distance: 57.1% 🏆
There isn't an existing/upcoming metro station at a walkable distance: 42.9%
Answers to Yesterday's Question:
What's a hidden gem in Chennai you would recommend people visit?
Suchi: "Royapuram Fishing Harbour"
Shiva: "Tirisula Nathar Sivan temple (it used to be so hidden that you'd end up walking back into time. I haven't been there since lockdown)"
That's it for today. Have a great day!