Good morning, Chennai!
☀️ Today's weather: Sunny with clear skies and pleasant temperatures.
🧐 Did you know? Doordarshan Chennai was the city's first TV channel. The first broadcast happened in 1975 as part of All India Radio. It then began colour transmissions in 1985.
---
🏞️ New park at Velachery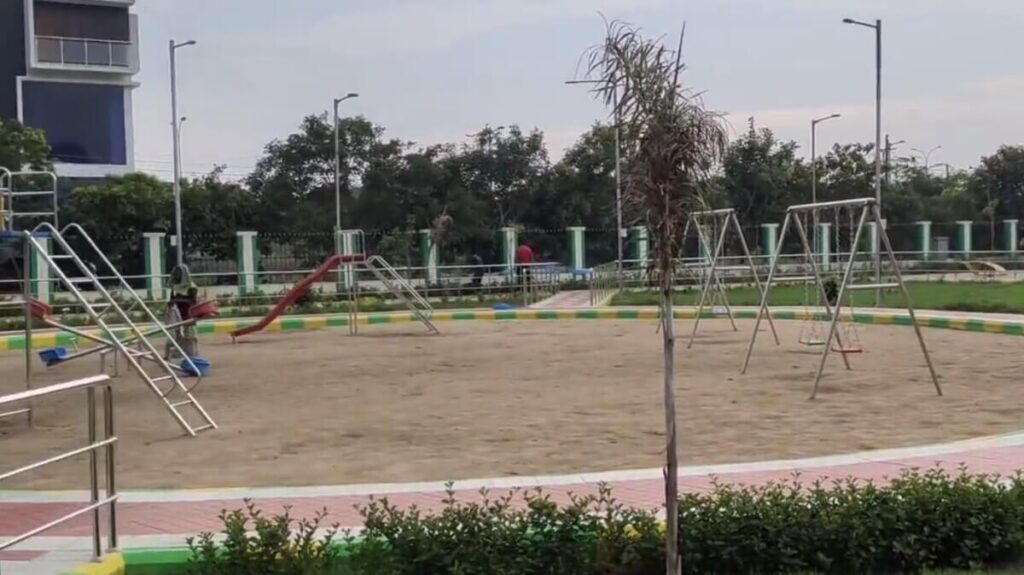 Residents of Velachery have a new park thanks to the Singara Chennai 2.0 project.
What's it about? The vacant land at VGP Selva Nagar in Velachery, once filled with garbage, is now a sprawling park. The Corporation has built a park under the Open Space Reservation (OSR), part of the Singara Chennai 2.0 project. It's located adjacent to the MRTS station service road near Perungudi.
The park was built on 6,000 sq feet of land for ₹75 lakhs. It has a small shed for yoga and other exercises, play equipment for kids, and a paved footpath.
It's the first park developed by the civic body after many years. For a long time, several parks in Velachery East were neglected due to the pandemic.
Resident's demand: People want the Corporation to renovate the park at the Third Street Extension. It once had a footpath and a play area for kids. Now, it's in bad shape, with the pavement damaged.
---
🏢 Alliance Française's new building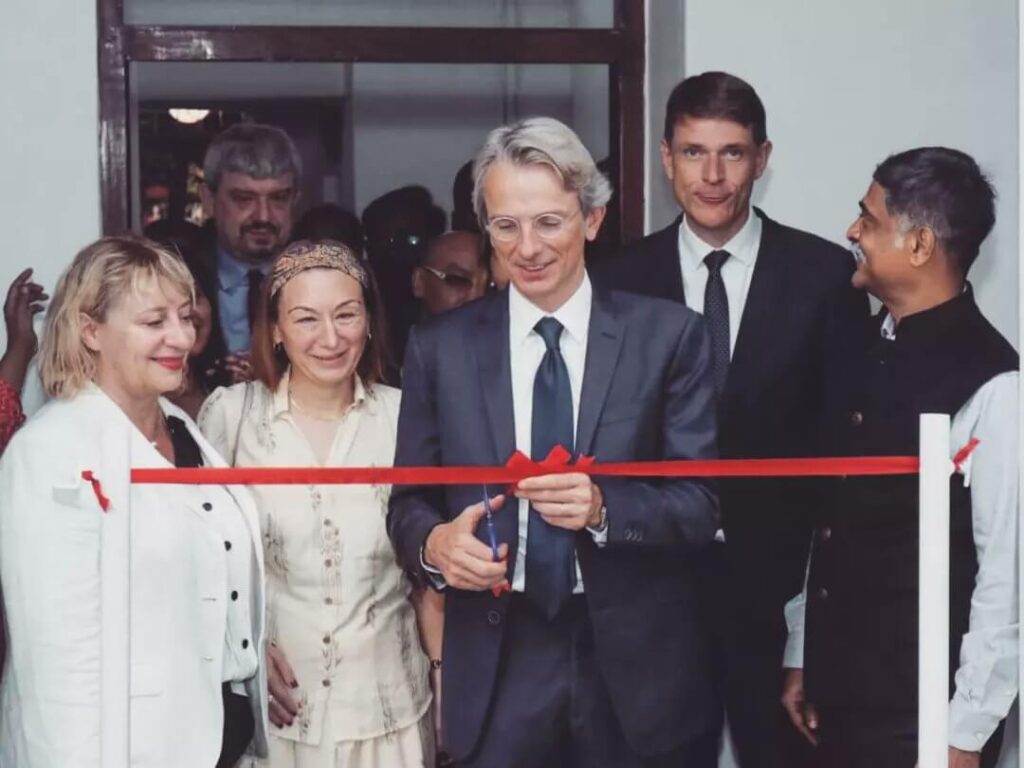 Alliance Française of Madras now has a new facility for cultural research and studies.
What's it about? Alliance Française is a Chennai landmark and has been functioning at College Road since 1953. It now has a new space on the premises inaugurated at Espace 24. The building will have new classrooms and event spaces.
The new building will help the centre welcome more students and expand its reach in teaching French. The space was dedicated to Chennai.
Part of the festivities included an art exhibition curated by Jesal Thacker of Sakshi Gallery titled "And when she roared the universe quaked".
Who said what? Emmanuel Lenain, Ambassador of France to India, said since the number of French speakers is increasing, it's important to support the centre's work. Consul-General of France in Pondicherry and Chennai, Lise Talbot Barré, thanked the state government for supporting the cultural activities.
---
👩‍💻 Google grant for IIT Madras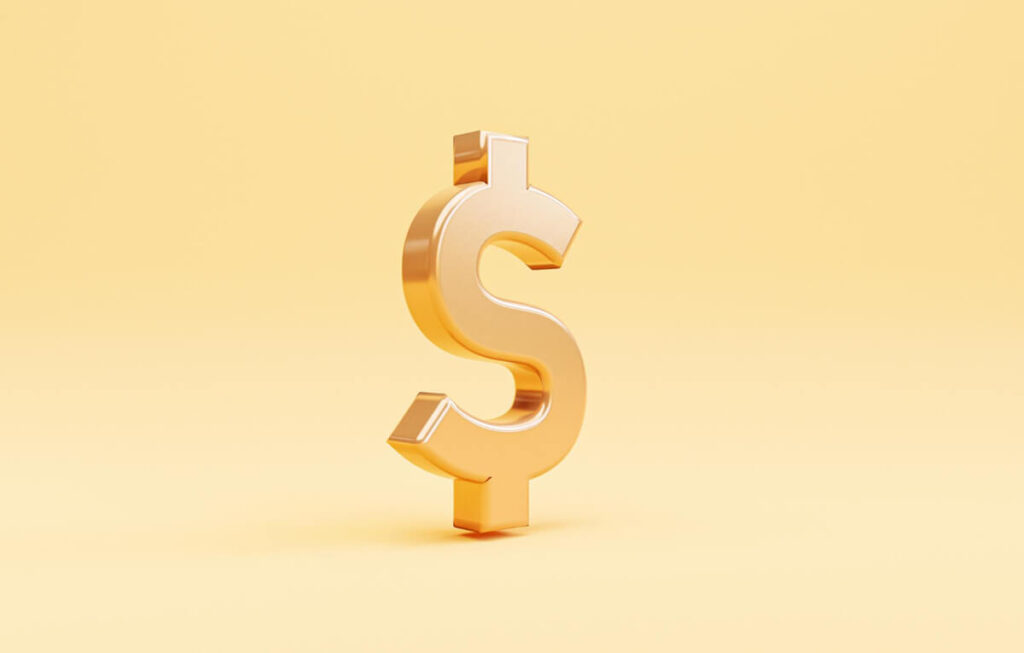 Google announced a $1 million grant for the institute's Artificial Intelligence (AI) centre.
What's it about? IIT Madras joins the likes of Stanford and MIT in having its own research centre to study the fair and ethical development and use of AI. Google will provide $1 million for the centre. It's part of the company's commitment to developing responsible AI technology.
The centre will bring together experts, researchers, policymakers, and developers to "get AI right" and localise it for the Indian market.
IIT Madras has also garnered interest from other big industry players wanting to be involved in such an initiative. Even the government think tank NITI Aayog is interested.
Necessity: Since AI has gone mainstream, a multi-disciplinary stakeholder approach is needed. AI is being used across the public and private sectors for efficiency. However, there is a debate on the ethics of its use, especially by law enforcement. In the West, the use of AI has shown prejudice towards certain races and ethnicities.
---
🙏🏻 Divine intervention for visas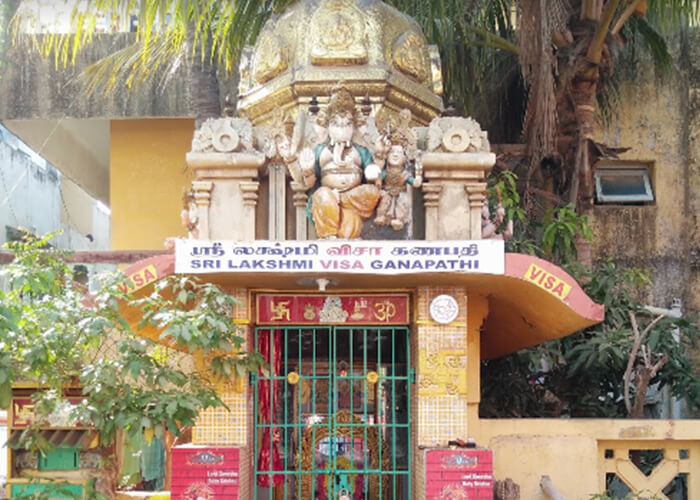 Crowds gather outside some Chennai temples seeking god's blessings for UK and US visas.
What's it about? Crowds throng the Sri Lakshmi Visa Ganapathy Temple north of the airport to pray to Lord Ganesha, believing it'll grant them smooth and successful visa interviews. It's run by Mohanbabu Jagannathan and his wife, Sangeetha. People come from places as far as Delhi to pray to the gods.
Earlier, only those who lived close by visited. Over time, more people came once the temple got a reputation for blessing visa applicants with success.
There's also the Sri Lakshmi Narasimha Navaneetha Krishnan Temple. Here, Lord Hanuman, also called America Anjaneya, is believed to bless his followers with successful visa applications.
Who said what? The Ganesha temple's secretary G.C. Srinivasan said the place gained popularity in 2016 when word spread about praying at the temple from visa applicants. IT professional Arjun Viswanathan said he got a UK visa for his brother and wife and has now applied for an employment visa to the US.
---
📊 Today's Poll
(Only subscribers can participate in the polls)
Have you travelled abroad for your work?
Yes, my work has taken me abroad.
No, I haven't travelled abroad for work.
---
❓ Today's Question
(Only subscribers can submit their answers)
Who was your favourite teacher in school, and why?
Reply to this email with your answers.
---
🗞️ In other news…
---
🛋️ Local Lounge
Yesterday's Poll:
I prefer indoor sports: 33.3%
I prefer outdoor sports: 66.7% 🏆
Answers to Yesterday's Question:
What podcasts that you listen to would you recommend?
Vignesh: "On purpose with Jay Shetty"
Giri: "Paradigm Shift by Microsoft India and Voice by Harsha Bhogle"
That's it for today. Have a great day!